The 2023 Lula Owl Gloyne- Person of Excellence Award Winner is Dr. Victoria Harlan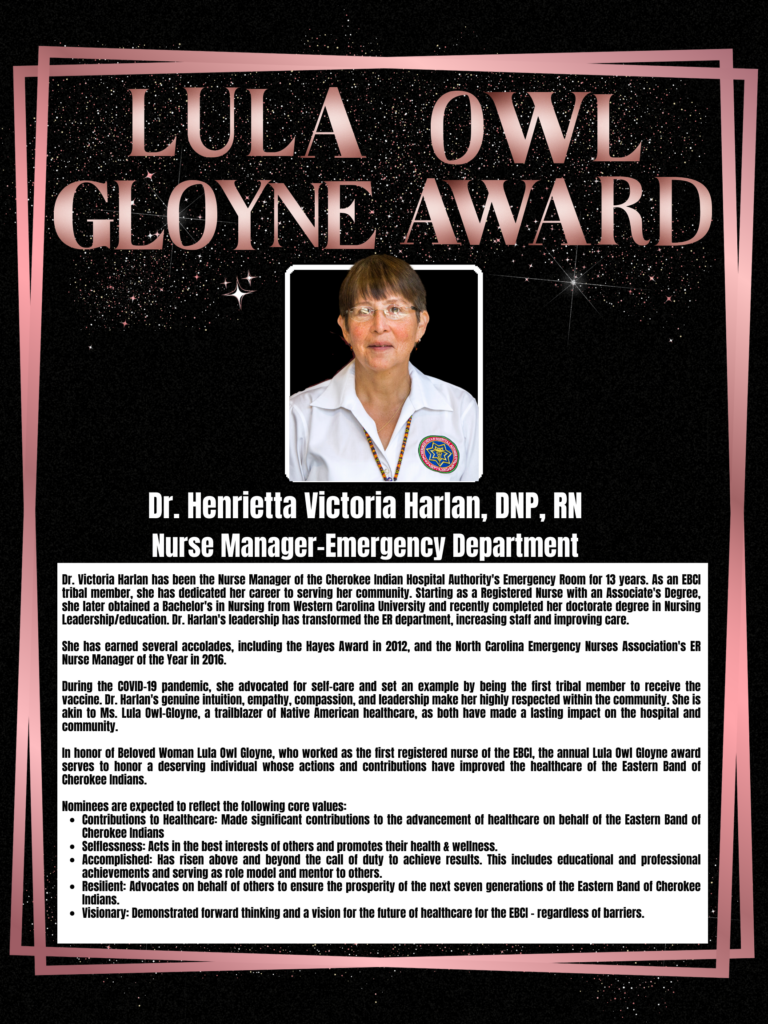 The Lula Owl Gloyne – Person of Excellence Award
On June 25, 2022, the Cherokee Indian Hospital Foundation presented the Inaugural Lula Owl Gloyne Person of Excellence Award, in memoriam to Lula's daughter, the late Mary Wachacha. This award, serves in honor a deserving individual whose actions and contributions have improved the healthcare of the Eastern Band of Cherokee Indians.
Mary Gloyne Wachacha had a long and impressive career with the Bureau of Indian Affairs (BIA) and the Indian Health Service (IHS). She held many roles in which she advanced healthcare for the Eastern Band of Cherokee Indians and tribes all over Indian Country.
Mary was selfless in giving her time and energy for the advancement of her people. She said, "personal philanthropy defines us as humans who have moved beyond 'me' towards 'we.'" We lost Mary in October of last year, but she will always be remembered as someone who was highly accomplished, resilient, and selfless. She had a vision for the future of the Eastern Band of Cherokee Indians and made substantial contributions to its advancement. Her leadership and wisdom have left an indelible impression on us all.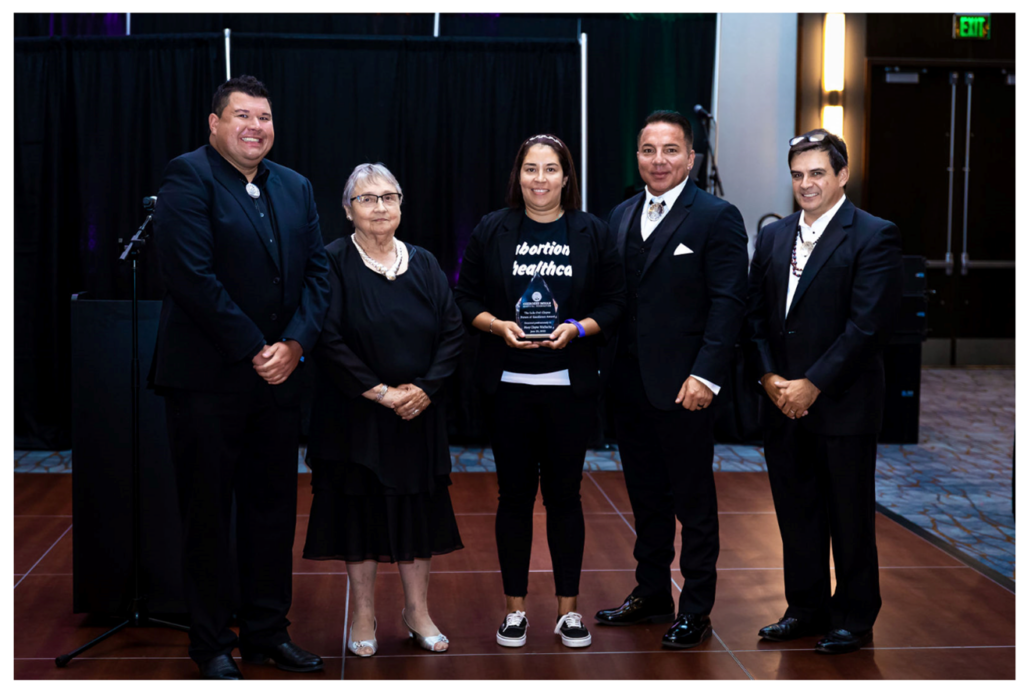 EBCI Beloved Woman: Lula Owl Gloyne & Her Legacy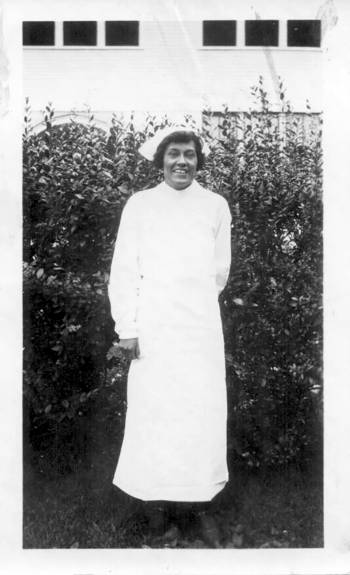 In the 1920s, a new school and new employee housing were both constructed around what would eventually be called "Agency Circle"—today's home to the Cherokee Phoenix Theatre. Lula Leta Owl (later Lula Owl Gloyne) worked in a small clinic in the basement of the Agency's administration building. She would go on to become the first registered nurse of the EBCI and later distinguish herself as a Beloved Woman of the Cherokee Tribe.
As the years passed, a small, two-story infirmary for the Cherokee Boarding School was built with the intent to care for boarding school students, and soon the school physician began providing the community with maternity and tuberculosis care. As the physician began to see new patients, the infirmary moved once again, where it served, at long last, as a "hospital"—though one that needed to be much larger and offer more services to truly help Cherokee.
Cherokee Delegation Rallies Support in DC
In the early 1930s, Lula Owl Gloyne traveled with Tribal officials to Washington, DC to testify in front of Congress—to address the need for a fully functioning hospital on the Qualla Boundary. After pleading their case, the Cherokee delegation emerged victorious, with Congress agreeing to provide funding to build the Cherokee Indian Hospital. Official construction began in 1936.
In 1973, a new outpatient clinic area was added, located where the UNITY building now resides in Cherokee. And in 1985, the hospital moved and began to ably serve the Eastern Band. Triumphantly in October 2015, the Tribe received a new 83 million-dollar healthcare facility that enrolled members proudly use today—a state-of-the-art facility providing the highest standards of healthcare, in a unique, Cherokee-infused environment meant to nurture and heal. The old hospital is currently being renovated into a Crisis Stabilization Unit that opened in January 2021 as part of the EBCI's continued desire to create a recovery continuum available to all who need it on the Qualla Boundary.