The 12th Annual Cherokee Indian Hospital Foundation Gala, which will be held on July 15th at the Cherokee Casino Resort, promises to be "A Star-Filled Summer Night," to celebrate healthcare and community in a festive atmosphere under the stars.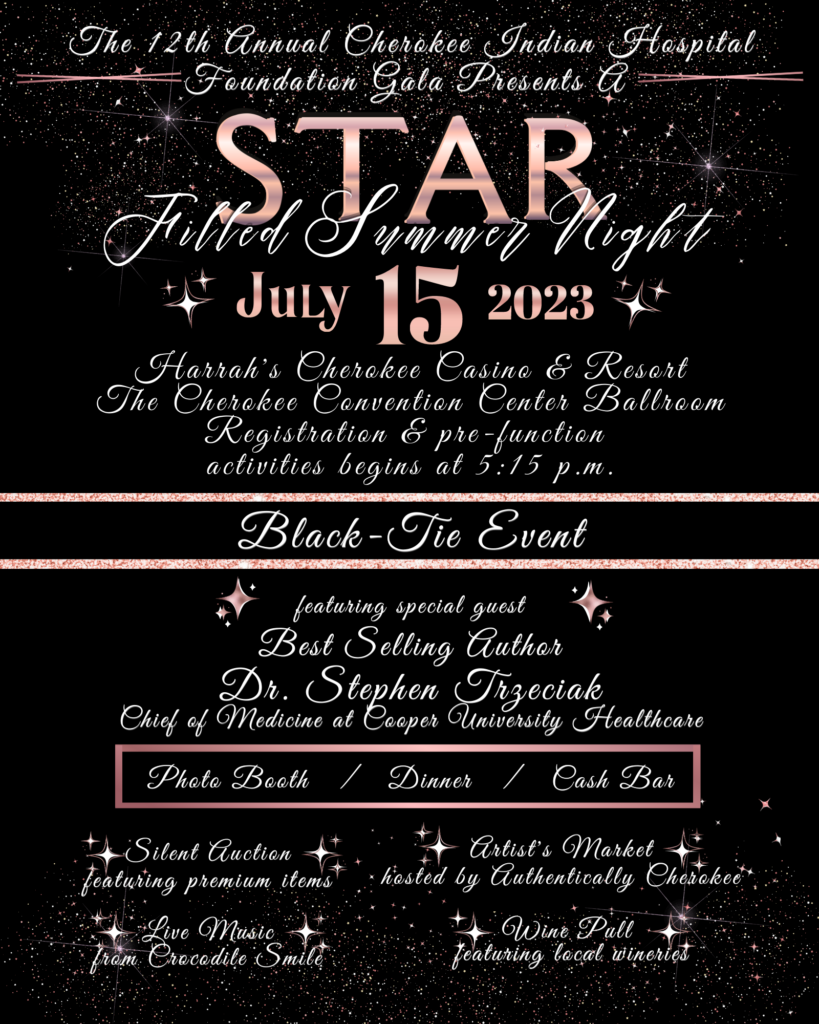 "We are honored to have a special guest at this year's Gala, Dr. Stephen Trzeciak, Best Selling Author and Chief of Medicine at Cooper University Health Care," said Brittney Lofthouse, Development Director for the Foundation. "Dr. Trzeciak's will share highlights from his research into the impact of compassion in healthcare. Dr. Trzeciak's scientific program has been supported by research grants from the National Institutes of Health (NIH), and he has served as Principal Investigator. He is also the co-author of two books, Compassionomics: The Revolutionary Scientific Evidence that Caring Makes a Difference and Wonder Drug: 7 Scientifically Proven Ways That Serving Others Is the Best Medicine for Yourself."
In addition to Dr. Trzeciak, the Gala's program will also serve as at time to celebrate our local healthcare "stars" including the Hospital's employee of the year and the second annual Lula Owl Gloyne Person of Excellence Award recipient.
There are several exciting changes and additions to this year's Gala, including a local spin to the wine pull. This year, we are proud to showcase the best that our region has to offer in terms of wine, and we believe that our guests will appreciate the opportunity to have a chance to win some of the finest wines available.
Another highlight of the evening is the silent auction, which has been revamped to include premium items. We have been working tirelessly to source unique and exciting items to generate a great deal of interest and raise funds for the Cherokee Indian Hospital Foundation.
In partnership with Authentically Cherokee, we are looking forward to the addition of an artist's market at this year's Gala, which will showcase the work of local Native American artists. This addition to the gala is an opportunity to support the arts in our community while enjoying the beauty and talent of our local artists.
As always, the evening will feature a delicious dinner, networking, and dancing. We will have music from the Asheville-based band, Crocodile Smile. This year's entertainment specialized in mixing styles and eras of music to play a little bit of everything from old school throw-backs, Motown, rock, to today's country and pop hits. This local band has been a favorite of the community for years, and we are excited to have them perform at the Gala.
We are currently accepting Table Sponsors, with individual tickets going on sale May 1. We hope that you will be able to join us for this special event. Your support of the Cherokee Indian Hospital Foundation is essential to ensuring that we can continue to provide the highest quality healthcare services to our community. If you would like to reserve a table (10 seats) or be put on the pre-registration list to reserve individual tickets, you can do so by emailing Cherokee Indian Hospital Development Director Brittney Lofthouse at CIHAFoundation@gmail.com.